There is nothing better to wear than a maxi dress on a hot day. They are perfect for keeping us comfortable while still looking fashionable. However, like most new fashion dresses, there are a few factors to consider ensuring that you are getting the most out of your outfit! Here are a few things to remember on how to style up a maxi dress for beginners.
Figuring Out What Maxi Style Fits On You
The fit of clothing can flatter your shape, which is why it's best to know your body. Know what parts you would like to highlight to help you get the most flattering maxi dress for your figure. Research some styles and shop on fashion brands that may look great on you.
Just as shape, fabric, and style can also affect how you wear a maxi dress, so can the print and shades. To wear a maxi dress, opt for optimal color and fabric for your body shape. Wear simple prints or solid shades if you are smaller. You may also want to try larger floral or bolder prints if you are curvier.
Finding the right length of a maxi dress can prevent you from tripping or getting caught in your maxi dress. Aim to have a maxi dress that touches the top of your toes. Make sure it hits at least at your ankles, and give the dress a test run.
Dressing Up A Maxi Dress For The First Time
Maxi dresses can range from sleek and classy to trendy and chic. You may want to do some research for several looks to obtain maxi outfits for any style for different occasions. Take note of accessories and hairstyles paired with maxi dresses. Consider keeping pictures of different looks you like to inspire your choices.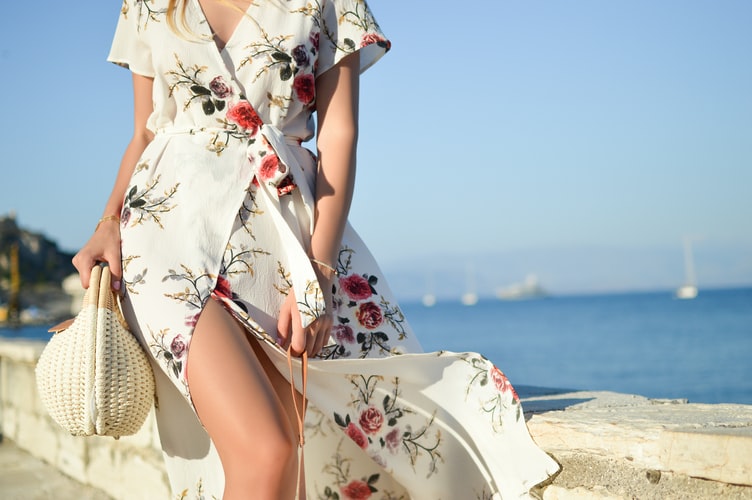 Depending on the color, style, and print of your dress, focuses on one piece of your outfit. Keep your maxi the focus if it is covered in flowers, has a bold print, has a lot of fabric, or is very flowy. Be sure that the rest of the outfit is simple.
You can enhance your outfit by adding different pieces to your maxi dress. Remember to keep the focus on your dress or an accessory, so consider completing it with simple pieces. When adding some items, make sure to check the weather. For example, in spring or summer, you could add a denim jacket or light cardigan. During winter, you could put a scarf around your neck or long cardigan to highlight your maxi dress.
Since maxi dresses are often flowy and too long, you may want a more relaxed look, which is why you need to keep your shoes simple to match your dress. In most cases, a pair of strappy, simple sandals in a neutral color works best for a maxi dress. Also, try to avoid boots and closed-toe flats with maxi dresses.
Lastly, to add some extra polish or pizzazz to your maxi dress, you need accessories. Put on a belt, jewelry, or carry a purse to complete your maxi look. Match jewelry to your overall outfit and look you desire. For example, if you prefer a boho look, stack your arms with lots of bracelets and wear a pair of intricate hoops in your ears.
LovelyWholesale.com offer more styles just for you
LovelyWholesale is a global fashion store that sells all types of fashionable clothing, shoes, jewelries, sexy lingerie and other accessories. They focus on high quality, keep an eye on every detail and follow the fashion tide of the world just to be updated in every fashion trends. LovelyWholesale offers exceptional low wholesale price, good quality and fantastic service at the same time. Visit lovelywholesale.com for flash sale and special discounts available at their store page